Raydhanjar
Taluka : Abdasa
Kutch, Gujrat
Pin : 370490
SHORT HISTORY : This Village was established around 1644 (Samvat 1700) & was ruled by Vinjhan Jageer. It has consisted Dasha Oswal Jain, Bhatiya, Lohana, Khatri, Suthar, Luhar, Rajgor, Pinjara, Harijan & Muslim Communities.
Around 1669 Visha Oswal Jains came here,
In 1688 (Samvat 1744) Ghar Derasar established by Shri Sangan Devpaar.
In 1790 (Samvat 1846) Sikharbandh Derasar was established with Murti of Mulnayak Shree Adeshwardada & Shree Raydhanjar Jain Sangh was founded on that occassion.
In 1794 Rata Talao (Lake) was dug for drinking water.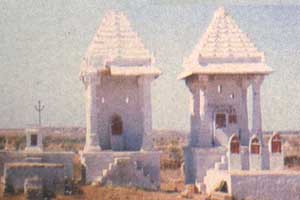 There are 3 lakes, 11 wells & 3 streams of water in the village.
CHHATERI: 3 Chhateri were established in the memory of brave warriors in 1648 (Samvat 1704).
Distances from Raydhanjar
Bhuj : 82 KM Mandvi : 82KM
Naliya : 52 KM Gandhidham : 132 KM