1 onion (Chopped)
1 tomato (Chopped)
4-5 clovettes garlic.
1 tbsp. coriander leaves.
1 tbsp. gram dal soaked for 1 hour
Tamarind - (Soaked) as per taste
2-3 curry leaves.
1/2" piece ginger.
1 tsp red chili powder.
Salt to taste.
1/2 tsp sugar.
1/2 tsp cumin seeds.
Water (If required)
For seasoning:
1 tsp. oil,
1/2 tsp. mustard seeds,
1 pinch asafoetida.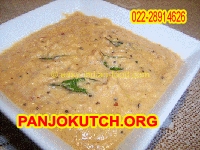 Method:
Mix onion, tomato, garlic, drained gram dal, tamarind, curry leaves, ginger, red chili powder, salt, sugar & cumin seeds in a jar & grind them well to smooth chutney.
Transfer to a serving bowl.
Heat oil in a pan add the mustard seeds and asafoetida.
When they splutter add to the chutney. Mix gently.
Serve with parathas, dosas, idlis, or just plain bread or toast.
If refrigerated stays well for 4-5 days.