2 cup corn seeds put salt and boiled.

2 medium potato (boiled and cut into small pieces)

½ cup fry Bengal gram or 1 cup daliya.

1 cup coriander leaves finely chopped.

1 cup grated coconut.

1 cup tomato sauce (put little water and lemon juice mix it and make it thin.

½ cup tomato (finely chopped)

½ cup onion finely chopped
For Jain
Cucumber.
250 gm sev.

Red chilly powder.

Salt.

For Sauce Ingredient:
250 gm Tomato (cut into medium size)

1 Onion.

2 to 3 garlic cloves.

celary bhaji (finely chopped)

1 piece ginger.

2 pinch citric acid.

2 pinch aajino moto.

8 tsp sugar.

½ tsp garam masala.

1 tsp red chilly powder.

¼ cup water mix 1 tbsp corn flour.

Salt.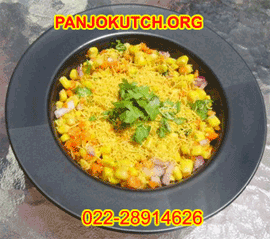 Method:
Take a bowl put Corn seeds, bengal gram, boiled potato, grated coconut, tomato, onion, red chilly powder, salt and sauce mix it properly.
Put in a serving plate on top put sev and coriander then serve.
Method For Sauce:
Take one bowl put 1 glass of water, mix tomato pieces onion, garlic, bhaji, ginger cook it.

Let it cool and crush in a mixture and drain it.

Take a pan put puree mix all ingredient accept corn flour cook it for 5 to 7 minutes.
Put corn flour cook it for 2 minutes.

Make it thick.

Note:
Put it in a bottle and keep in a fridge at least for 2 months.