6 cup milk.
4 tbsp. crushed sugar.
100gm cream.
1 cup thandai paste.
2 almond (longly chopped)

Ingredients for thandai paste:
10 almond.
3 tsp fennel seed.
4 black pepper.
1 tsp. ginger powder.
10 rose leaves or 3 drop of rose essence.
2 cardamom.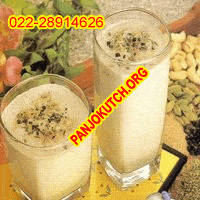 Method
:
Soak almond in ½ cup of warm milk, fennel seed in ¼ cup of water, poppy seed in ¼ cup of milk, rose petals in ¼ cup of milk.
Soak all these things separately for 2 hour.
Churn the almond after removing its skin with poppy seeds.
Mix fennel seeds, rose petals, pepper, cardamom & churn it finely.
Mix all these things in big bowl, add milk, cream & sugar.
Churned it & chill it for 3 hours.
Do not add ice.
Pour thandai in glass & serve with finely chopped almond.