225 grams Paneer.

1/4th cup Milk.

15 gm Ginger.

6 flake Garlic.

1 cup Coriander leaves.

3 Green Chilies.

3/4th cup Water.

½ cup Ghee or Oil.

1 tsp Turmeric.

2 tsp Cumin Powder.

1 tsp Red Chili Powder.

1 tsp cinnamon / clove powder.


300 gm Cauliflower.

2 cups Peas.

1/4th kg Potato.

1/4th kg Carrots.

1/4th kg French Beans.

300 grams Tomatoes puree.

11/2 cups Curd (nicely beaten)

2 slices Canned Pineapple (cut into 1 cm pieces)

2 tbsp Cashew nuts (broken into pieces)

12 Almonds (blanched and sliced)

A pinch Saffron (dissolved in 1 tbsp hot milk)

Salt / Sugar - to taste.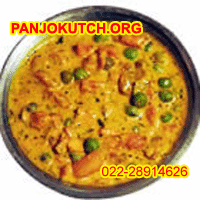 Method:
Chop cauliflower into small pieces.
Peel potato & dice it into 1 cm pieces.
Peel carrot & cut into 4 cm long thin strips.
Cut french beans into 3 cm long thin strips.
Grind ginger, garlic, coriander leaves and green chilies into a paste adding a little water.
Heat oil in a heavy bottom pan and fry diced paneer till golden brown and remove.
To the remaining oil, add ground paste.
Stir fry till golden brown sprinkling little milk from time to time.
Add all the vegetables, salt, turmeric, cumin, red chili & cinnamon - clove powder.
Stir-fry for about 2 minutes.
Add tomato puree, curd and remaining water.
Mix and cook this covered on low flame till all the vegetables are cooked.
On medium heat add paneer, pineapple, cashew nut and almonds.
Stir and simmer for 3 more minutes.
Add saffron and serve hot.